In part 1 of Samantha's recovery diary, she shared what her recovery goals are and how far she had come after two months of training with DNRS. When starting the program, Samantha had disabling symptoms associated with Mast Cell Activation Disorder, Multiple Chemical Sensitivities, Chronic Inflammatory Response Syndrome, Lyme Disease and Post-Traumatic Stress Disorder. Her sensitivities had become so severe that she had spent the 2 years living in a camper on her boyfriend's driveway, and more than 8 years struggling with these severe health challenges.
Before beginning DNRS, Samantha described herself as living "like the boy in the bubble."
In her own words (lightly edited for length and clarity) here is the second part of Samantha's recovery diary.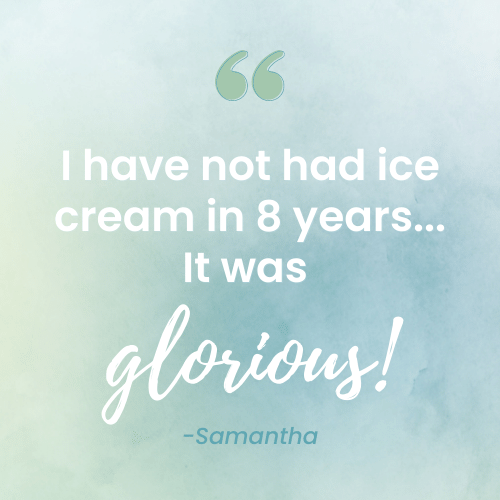 Incremental Training For the Win!
While working on incremental training in my boyfriend's garage, I started poking around to see if I could trigger a symptom. I've been so amazed! I can be around all these things and feel totally fine!  
Well, I came across an old bracelet of mine in my old boxed-up things—things that I was sure I was going to have to throw away after environmental exposure. I brought it in the camper and washed it since it's been in the garage for 2 years. I put it on and had a small symptom. I actually found this amusing, because I had spent way more time exposing myself to things in the garage without any issue, but for some reason, my limbic system decided that WEARING it was somehow different and NOT okay. 
I am on to my limbic system's silly antics now and welcomed the challenge. So I immediately went into a round and trained with it, then took it off and hung it in the window where I could see it all day. Yesterday I did the same, put it on, had a small symptom, did my rounds, and hung it in the window. Well, I trained with the bracelet on and today the symptoms are totally gone and I'm wearing it for real! Incremental training is amazing!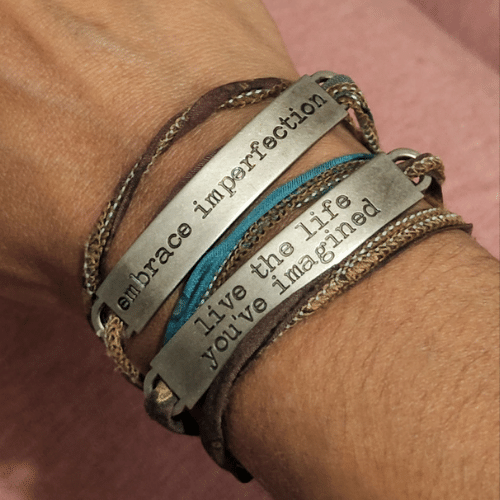 The messages on this bracelet couldn't be more appropriate. I actually bought this about 2.5 years ago before my second "perfect storm" when I thought I was getting better, and wanted to stay inspired. This time it has even more meaning than the last. I love having these little reminders on my wrist. I want to bring all my old things back into my life… especially my clothes, I REALLY miss my clothes! 
Week 10 Update: 24 Hours of Pure Happiness!
So many new things conquered the last few days! I've had the best time while doing them! 
My boyfriend and I celebrated our 4 year-anniversary. Since I'm living in the camper in the driveway, and because he has kids in school, we normally stay masked around each other. But he just got over Covid and now that he's negative we got to spend our anniversary together!
 Here are some of the magical moments from the last 24 hours:
Yesterday we went and got pizza, onion rings, and a buffalo chicken sandwich and shared everything. We took it to a little island beach and sat by the water and I was in heaven!! After being limited to just a handful of food this was incredible. Prior to this program my diet was dairy-free, gluten-free, sugar-free, only low-histamine veggies, limited fruits, alcohol-free, caffeine-free, nothing processed, no soy, and I was allowed organic meats in small amounts.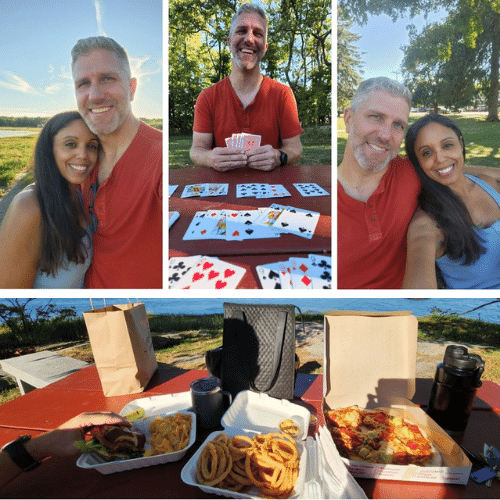 Did I forget to mention that I had WINE for the first time in 8 years?! It was soooo good.

I had about half a glass, then had the other half with dinner because, let's face it, I was buzzing after that first half, ha ha!

I used to live in a beautiful picturesque Connecticut small shoreline town that has the cutest town center. I have used it for some of my future visualizations and yesterday we drove out there and I got to live through one of the visualizations that I use often! We walked into all the little tourist shops, the village chocolatier, the gift shops, and the cute little spice shop. Then we got tea and walked through the green, sat on a park bench and people watched before heading out to pick up the food to head to the beach. It was wonderful.

This morning we went to a local farm to buy produce and on the way home Randy mentions there is an amazing creamery up the road. He was mentioning it as something we can try in the

future

when I felt ready, but my ears perked…

I have not had ice cream in 8 years.

I felt compelled to try it. So, at 11:30 am and BEFORE lunch (rebels!) we turned around, and drove up this beautiful country road to the creamery where

we got 2 scoops to share (coffee almond fudge and black raspberry). It was GLORIOUS!

(you'll notice I had a split second of hesitation in the first photo, but then just dove right in!) Not one symptom during any of it!

In the last photo… I was having an "OMG THIS IS WHAT ICE CREAM TASTES LIKE!!??!!!" moment, because I had definitely forgotten!!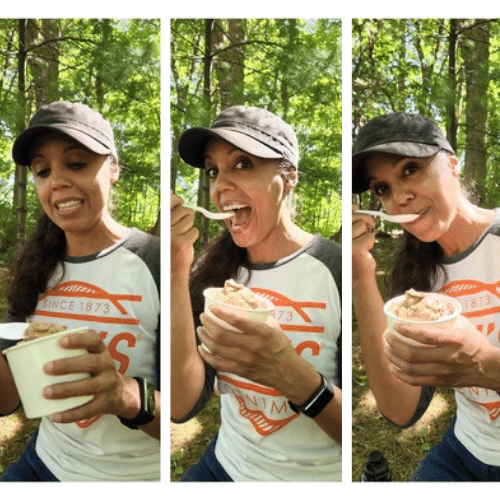 I bought sourdough bread

from the farm and it was the first time I had real full gluten bread!!! It was delicious!!

I'm not having reactions to anything out in the world!

I used to experience respiratory symptoms in reaction to about 80% of the things I came in contact with out in the world. That left me not wanting to go ANYWHERE because of what I might come in contact with and bring back home to my camper. I was always determined to keep my camper "sterile and safe." That fear is long gone!

I am now incremental training IN THE HOUSE that was part of my perfect storm!

I spent 15 minutes there for the first time yesterday. I had a few symptoms within the first 5 minutes, but I started to play with the dog to distract myself and noticed that they went away. I was happy to walk out at 15 minutes on MY terms, not because symptoms pushed me out. My goal is to be able to have an occasional meal with Randy and his kids in the house. Ultimately we're going to buy a new house so I will never be moving back into this one, but I just would like to get to the point where I can be in it to socialize etc.  Last night was a big first step!

I'm living in a state of Joy.

Living cooped up in a tiny camper for 2 years totally isolated from the world, living in fear, I feel like someone opened up my cage and said "go little bird you're free!" I am going through these moments in total wonder and amazement. At times I've had symptoms in the form of worries that it will all be taken away. But,

my Certified DNRS Coach

says that's normal and that thought will fade as I do more and more. She's reminded me that

I will have these tools for life and I will be in control from here on out. That is a really great feeling.
I hope everyone is out there, enjoying the weekend, pushing and challenging yourselves just a little bit, it's so worth it. 
Stay tuned for Part 3 of Samantha's recovery journey, coming soon.