Welcome,
Let's get you acquainted with the Dynamic Neural Retraining System™ online instructional video program.
You are now officially on your way to retraining your brain, regaining your health, and reclaiming your life, and we are here to support you every step of the way.
Before starting the course, we encourage you to read this User Guide. This will help you to successfully navigate your way through the program.
The following is an overview of how the program course material is intended to be viewed.
The first segment of the DNRS Instructional Video  is divided into four "days." The videos are set up to walk you through the program one step at a time.  Please note that it will take extra time to go through the section Five Pillars of Recovery. Please go at a pace that is right for you.  (You can go back to review any lesson at any time.)
For optimal results, please pick a "start date" with the intention to set time aside every day to go through the program and practice what you are learning. This helps set new neural patterns, and prevents your brain from defaulting into old patterns.
It will be helpful to read through the day's activities first thing each day— so you're prepared.
Throughout, you will notice there are "take a break" pages. We encourage you to take a ten to fifteen minute break during this period to allow your brain and body time to absorb the information.
It is best to do the program when you are not experiencing an overwhelming amount of stress, for example, on the heels of a relationship break up, after the death of a family member or when you are in the process of moving. Having said that, we fully recognize that having a limbic system impairment represents stress in itself, and rest assured that you will learn what you need in order to change your limbic system.
The course is broken into videos, reading and written exercises. Each written exercise is a form that can be emailed to you for future reference.  Throughout the program, Annie refers to the Student Manual.  Please note that in the online version, the Student Manual is seamlessly embedded alongside the videos for easy access.
Please don't worry – it isn't necessary for you to remember all the details of the science or theory of this system. It is more important that you stay present and participate in the program. You can re-watch the videos, re-read information or complete the written exercises anytime within one year of your enrollment.
The Dynamic Neural Retraining System Online Course represents the foundation for your daily practice for at least the next six months of your life where you will dedicate yourself to the task of rewiring your limbic system.
Log In Proceedure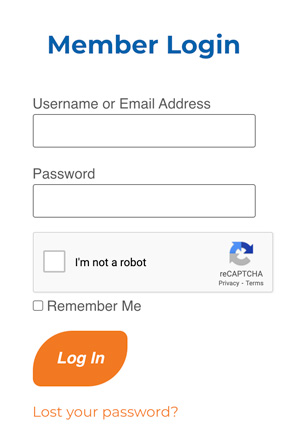 This is what the log in screen looks like.
You need to enter your username and password set up when you purchased this course.
If you forget your password click 'Lost your password?' under the log in box.
You will receive an email with a link to reset your password.
2 Factor Authentication
Your security is important to us. Before starting the course, you will be asked to verify your account and complete the two-step authentication.
You will be brought to the authentication page. You can choose to have the authentication code sent via email or text. Once the code is received, enter the code and select verify.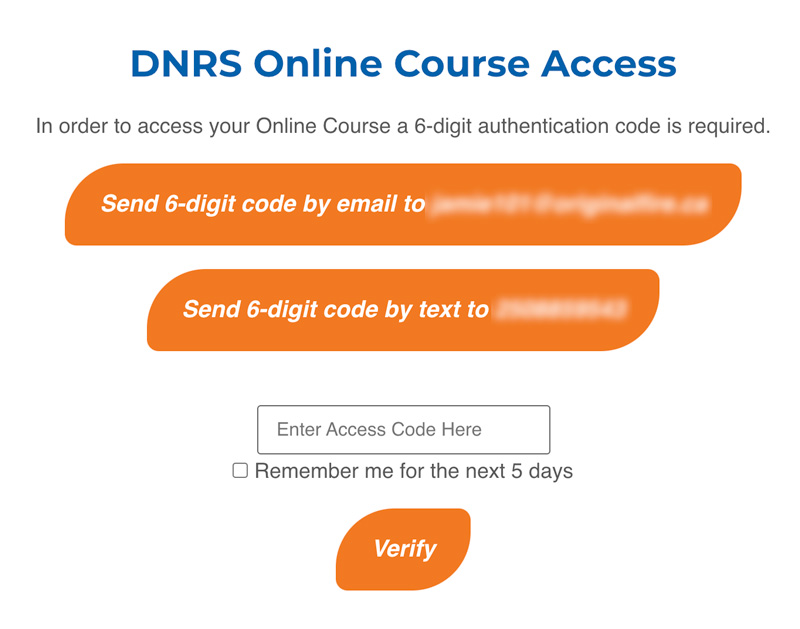 To avoid email going to the junk folder you should whitelist the email no-reply@retrainingthebrain.com. Click here for instructions on how to whitelist email addresses.
Note: You can check the box "Remember me for the next 5 days" to prevent this from showing up every time. (Not recommended on public computers)
Course Layout
Course Hierarchy
DNRS Course → Lessons → Topics
Lesson Overview Page:
At the start of each lesson you will be presented the topic list. As you step through each topic mark it as complete. Don't worry you can always go back. Once you are done all the topics in a lesson you will see this page with all topics marked as complete. Click 'Mark This Lesson Complete' at the bottom to move onto the next lesson.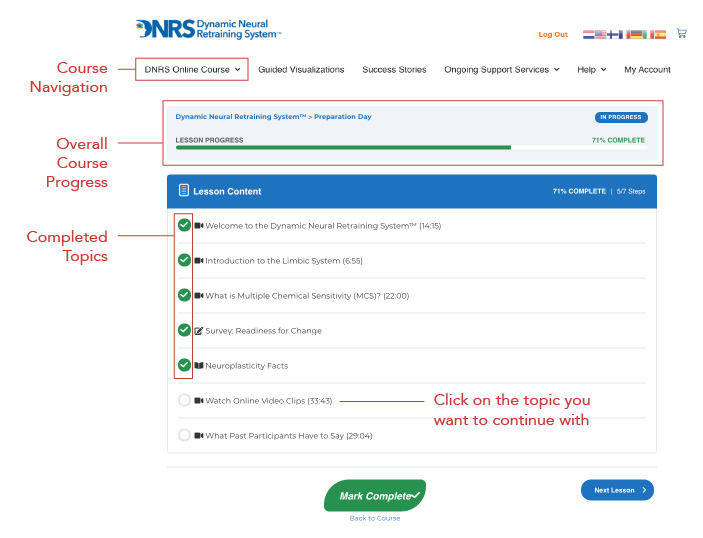 Topic Overview Page: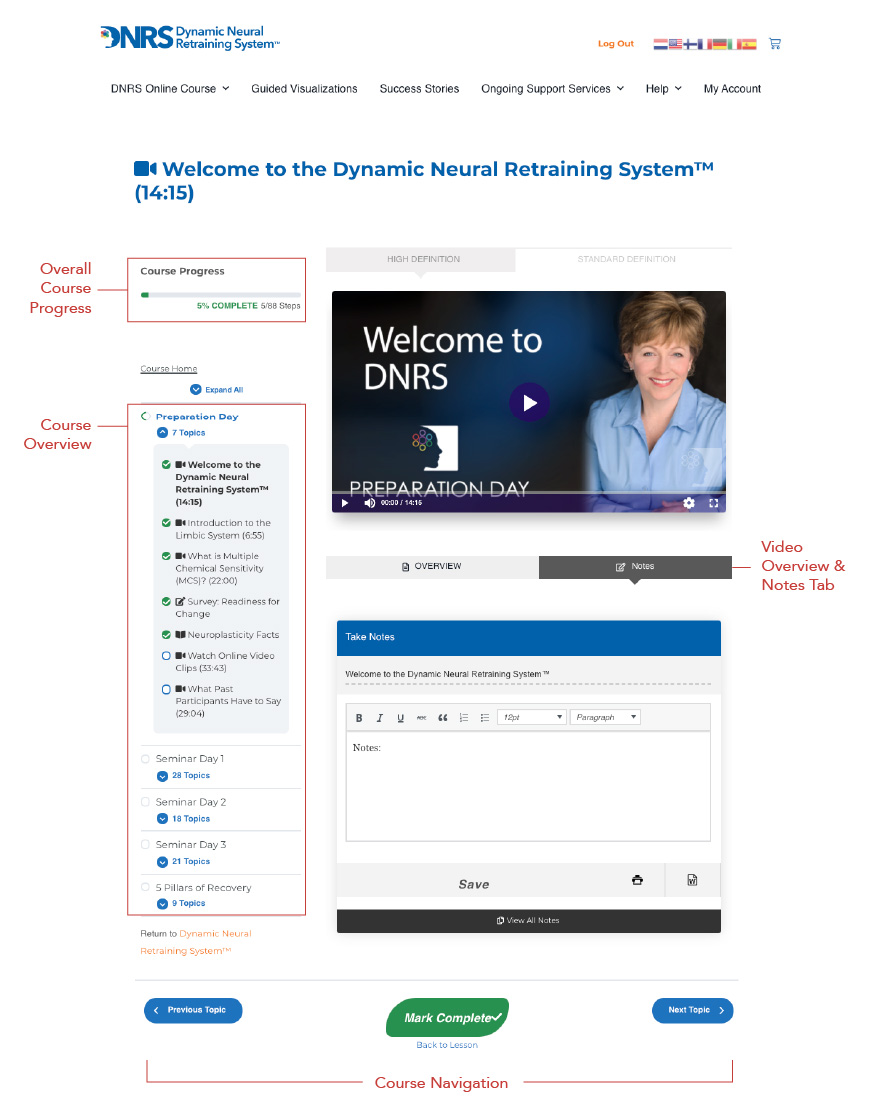 Video Overview:
Each video includes subtitles which can be turned on or off for your convenience. If you experience a delay when the video starts or any other issues, refresh the page and try again.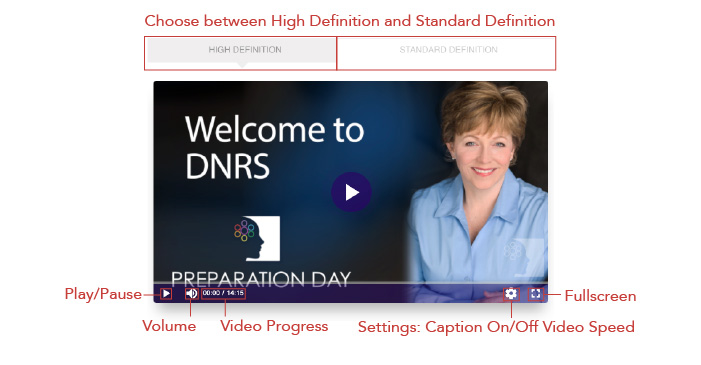 Written Exercise Overview:
Each written exercise is presented as a form to fill out. At the bottom of each exercise is a submit button so you can email your written responses to yourself for future reference. (This is optional but recommended.) To avoid email going to the junk folder you should whitelist the email no-reply@retrainingthebrain.com. Click here for instructions on how to whitelist email addresses.
Fill out the Questions & Answers
Click 'Send Email'
Wait for form submit success message
Mark lesson as complete 'Next Topic'
Note Section:
We have included a NOTE SECTION in each lesson so you can track your "aha" moments throughout the program!  This represents your personal journal so that you can write important notes about the lesson that you are currently viewing.  These notes are saved under 'My Notes' and can be downloaded or printed. You will not lose your notes when you log out.
All notes can be accessed be clicking 'View All Notes' under the note tab, or at the top of the page under DNRS Online Course > My Notes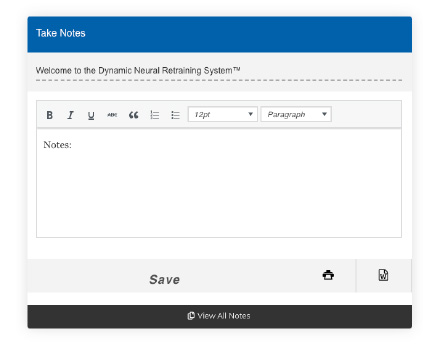 Good luck with the program and we look forward to reading about your dedication to your practice and your personal success stories on the Global Community Forum soon!
All the best!
Annie Hopper and DNRS Team